With cyber crimes and cyber attacks on the rise and a great shortage of highly qualified cyber security professionals, cyber security is a field that offers great career opportunities. Now, qualified students have the opportunity to follow a career in the government as a cyber security professional, be part of a University program focused in this area, pay no tuition, and receive a generous stipend through the UCF Cyber Security Scholars -for-Service Program (SFS) granted by National Science Foundation (UCF News report).
Applications for Fall 2023 will open on April 1st, 2023, and has a deadline of May 15th, 2023. Visit this Application page to apply!
Benefit: The SFS scholarship includes academic-year stipend of $25,000 per year for undergraduate students and $34,000 per year for graduate students, and additionally covers tuition and fees, plus a professional allowance of up to $6,000 per academic year for SFS Job Fair and other travel, books, professional certifications, etc. The scholarship normally lasts for two years. Students will also be provided with research opportunities with the Cyber Security and Privacy Cluster faculty members.
Commitment: All scholarship recipients must work after graduation for a federal, state, local, or tribal Government organization in a position related to cybersecurity for a period equal to the length of the scholarship. Students are required to take government internship positions in the summer between their first and second year of scholarship study. UCF and US Office of Personnel Management (OPM) will help matching students with the internship opportunities. Students agree to have a background check by the government.
Qualification: 1). US citizen or lawful permanent resident; 2). GPA is at or above 3.2; 3). Full-time student within two years of graduation with a bachelor's or master's degree, and must be able to have the SFS scholarship for 1.5 or 2 years before graduation; 4). In order to focus on the cybersecurity education, applicant must agree to not work or work less than 15 hours/week in cybersecurity related field during the scholarship period (except summer) ;  5). Need to be able to come to UCF campus for extracurricular activities when requested.
Note: (1). If you have been awarded with the DoD CySP scholarship, you cannot apply for this SFS scholarship anymore. (2). If you are awarded with this SFS scholarship, other funding (scholarships, grants, etc.) may be impacted due to the amount of this scholarship. Questions about this should be directed to UCF Office of Student Financial Assistance https://www.ucf.edu/financial-aid/.
UCF SFS Scholars and Alumni:
2021 cohort:  
   BS: Andras Futo (CS), Alejandro Fernandez (CS), Ethan Whaley (IT)
   MS: Timotius Oentung (MS in Cyber);  Muhtasim Jayeed (MSDF)
   PhD: Bryan Pearson (CS)
2022 cohort:
   BS: Gadiel Galloza (CS), Brandon Terry (IT), xx xx (CS)
   MS: Seth Horwitz, Thomas Riffaud, Alexander Esenwein (MS in Cyber)
2023 cohort:
  BS: Jacob Riesterer (CpE), Jonathan Carver (IT), Karsten McClard (CS), Nolan Metcalf (CS)
  MS: Bridget Suski, Joseph Wiendl, Konstantin Metz, Jake Harms, Jesseca Montcrieff (MS in Cyber)
SFS scholar social gathering on Nov. 4th, 2022 in campus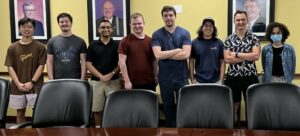 SFS Scholars attending SFS Job Fairs on January 11th, 2023 at National Harbor, Maryland
SFS Scholars social gathering on March 31st, 2023 in campus